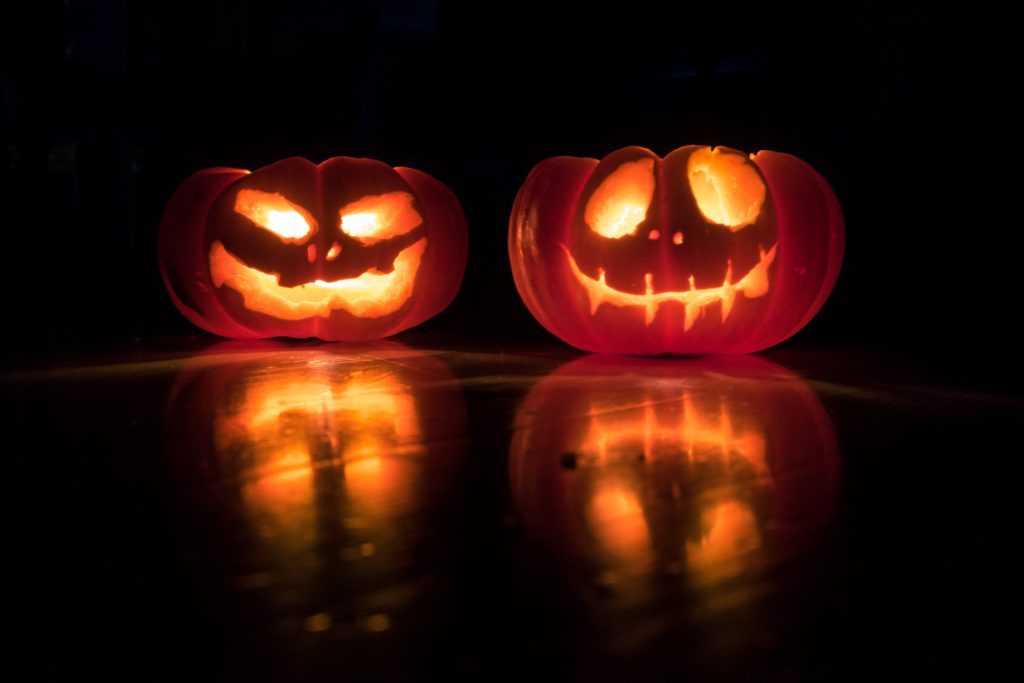 Halloween is here, but that's no surprise to you.
For the last month (or more) you've seen the candy sales capping the aisles of the grocery store, the goblins decorating your neighbor's lawn and the horror movies popping up as "trending now" on Netflix.
But have you ever asked yourself why is Halloween so popular? Why do so many people get so excited over something so… unpleasant?
First I want you to understand that my purpose is not to fully elaborate the intricacies of the history of the holiday (err, festival). Nor is it my intention to discuss whether a Christian should or should not participate in Halloween (I believe that it is a matter of one's conscience – 1 Corinthians 8). My purpose is to offer a few suggestions as to why Halloween is so popular as it is celebrated today.
Halloween Celebrates Death
Perhaps you've never thought of it that way. But take a closer look next time you're out and about.
I remember when I was still in elementary school we had a neighbor that really got into Halloween. Every year he went over-the-top to decorate his lawn. But one year he outdid himself.
Standing in front of his house was a 15 foot tall animatronic skeleton that was perched over the scene of a tent and campfire. The tent was ripped to shreds and the little campsite looked like a tornado had gone through it. In the skeleton's hand was a man. Well, half a man – the bottom half, bloodied and still kicking. The other half had clearly been eaten by the giant skeleton.
Sweet dreams.
All around us are similar Halloween "decorations," but why is death so fun to celebrate?
I believe we glorify death around Halloween time because as a society we're terrified of it. Try bringing up the topic of death with your coworkers and see if that gets you invited to the next backyard barbecue.
We don't like to talk about death. We like to watch it on TV or on a video game, but the truth is most people are terrified of it. I think that by celebrating death, we're desperately trying to make light of the very thing that scares us most.
What people don't realize is that without Christ, they are already dead. Spiritually that is.
Jesus is clear that unless someone is born again he cannot see the kingdom of God (John 3:3; see also Romans 5:12, Ephesians 2:1).
According to Scripture, you're either spiritually alive or spiritually dead. Which are you?
Physical death was not part of God's original creation, and neither was spiritual death. Death is a result of sin– another aspect of Halloween's festivities.
Halloween Celebrates Sin
Think of today's horror movies. According to the New York Times, the horror movie genre grossed $733 million in the U.S. in 2017 – the biggest year in horror movie history.
[1]
Horror movies contain themes such as murder, rape, torture, violence, sexual misconduct – and those are just the PG-13 ones! We love our horror movies! But why the celebration of wickedness?
People love darkness rather than the light because their works were evil (John 3:19).
We celebrate evil because we want to pass it off as no big deal. We look at the atrocities taking place on the screen, and we feel a little bit better about the "little sins" in our own lives. But sin, no matter how big or small, is an offense to a holy God and worthy of punishment.
Each one of us has sinned (Romans 3:23), and each one of us has a sin-debt that we owe (Romans 6:23a).
You are either under the debt of your sin or debt-free. Which are you?
Halloween is popular because it's a way for us to cope with the reality of death, and it's a way for us to feel better about our sin. But Halloween is also popular because Satan is the ruler of this world.
Halloween Celebrates the Power of Satan
Over the years, there have been many sick activities reported on or around Halloween. Most too graphic to detail here.
Peter warns us to be sober-minded; be watchful. Your adversary the devil prowls around like a roaring lion, seeking someone to devour (1 Peter 5:8).
The point is that Satan is very real and so are his followers – human and demonic. It's true, that the vast majority of us here in the U.S. do not intentionally celebrate anything Satanic on Halloween. For most, October 31st is day of candy and costumes with no thought of Satan and his wicked minions. But does Satan have more "followers" than we think?
And you were dead in the trespasses and sins in which you once walked, following the course of this world, following the prince of the power of the air, the spirit that is now at work in the sons of disobedience (Ephesians 2:1-2).
In this passage Paul essentially says to not follow Christ is to follow Satan.
Did you catch that? There's no third option.
You are either a slave to Satan or a slave to Christ. Which are you?
One master's intent is to destroy you. The other Master's intent is to give you life – eternal life!
Christ Has Conquered Death, Sin and Satan
And you, who were dead in your trespasses and the uncircumcision of your flesh, God made alive together with him, having forgiven us all our trespasses, by canceling the record of debt that stood against us with its legal demands. This he set aside, nailing it to the cross. He disarmed the rulers and authorities and put them to open shame, by triumphing over them in him (Colossians 2:13-15).
Christ bore your sin-debt on himself, paid for it by dying on the cross, then conquered death by rising again three days later!
Death is inevitable. Sin is deceptive. And Satan is powerful.
But Christ has defeated them all.
Halloween is a popular time of year, and that's OK with me because it exposes the fears and insecurities of mankind so that we can point the world to Christ.
[1]
https://www.nytimes.com/2017/10/26/movies/top-horror-movies-box-office-it-get-out.html
---